Last updated on January 19th, 2022 at 06:52 am
When I opened my Google Search Console Today, I found a popup saying, "Track your site's most popular content"
So this is about a new experience of Google Search Console called "Search Console Insights". This is designed to help the SEOs to understand their search performance in a better way.
The cool thing is that it adds merges data from Google Analytics and Google Search Console both and gives a better understanding of performance.
📢 Today we are introducing a new experience called Search Console Insights 🍾. Learn more about how it can help you understand which content resonates with your audiences and how they discover it 🧐 https://t.co/vZQKs6NDRF pic.twitter.com/U30C4uC5QD

— Google Search Central (@googlesearchc) June 15, 2021
The top highlights of Google Search Console Insight include the following things:
Site Overview
Your new content
Your most popular content
How people find you?
Site Overview
It gives the brief of your page views in the last 28 days, the average page duration with per day page view graph. With this, you get instant data for the days that had more or fewer page views than usual.
Your new content
Here you get to know which site content got its first views in the last 28 days. It is based on Google Analytics data.
The one interesting thing is that when you click a particular post, you get more deep insights about that post like, How people find you, Google search views, referring links count, social media content discovery, or direct traffic.
Your most popular content
This section gives you a highlight of the most popular content in the past 28 days. This literally saves the time to go through data and applying different filters to find out the same.
Some posts are highlighted with a "High avg. duration badge" based on their performance and data from Google Analytics.
How people find you?
In this section, you get a clear insight of your traffic medium direct, organic(Search engine traffic), social(Facebook, Twitter, Linkedin, youtube, etc), referral(blogs, referral links), or paid search(Ads).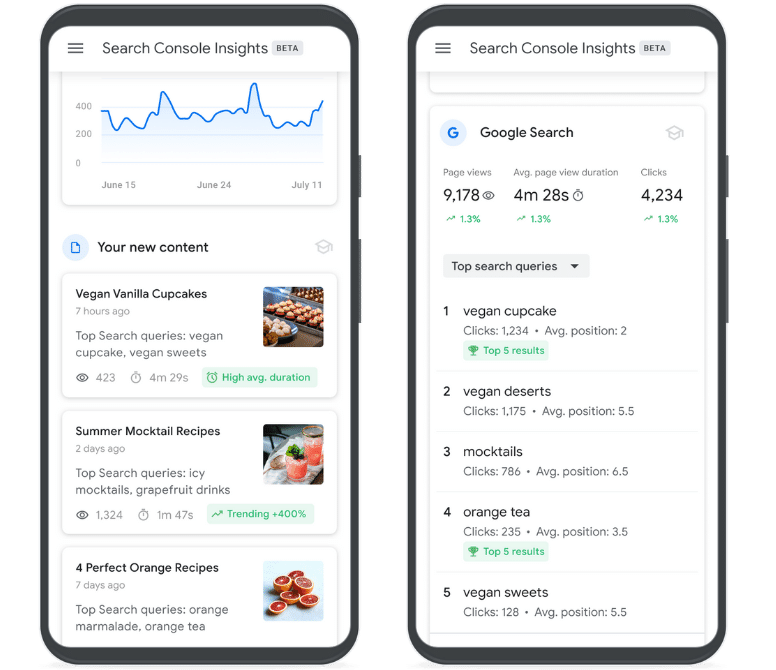 In the final few sections, you get the performance insight of individual traffic mediums like the most searched queries in Google, top-performing referral links, social media views of your site content, etc.
Site owners can access their search console insights from the link at the Google Search Console overview page.
Another way you can try is by searching for a query that your content ranks for. That search will give a popup titled "Search performance for this query". Also, you will get an entry point to Search Console insights in some cases, since it's in beta version.