Last updated on August 13th, 2022 at 09:12 am
Search engine optimization (SEO) is one of the ways to make your business known in the digital area without paying for direct advertising. Suppose someone begins their experience of discovering your products or services by typing a query in the search. This potential visitor sees the search results, and the first page is typically enough to satisfy their needs.
Even the website position on the first search results page matters. Studies show that the click-through rate (CTR) falls from 28.5% of the first organic non-ad result to 2.5% of the tenth. CTR entails the ratio between clicks your link gets and views. That's why a successful small business needs to use SEO to appear as high as possible among the search engine results (SERP).
An incorrect SEO strategy or its neglect can make you one of those late-night TV shows. Even if it's fantastic, but no one knows about it, you may have trouble with conversions and business growth. This article will cover the SEO tips for small businesses, from keyword research to time-saving methods for writing high-quality content.
Six Applicable SEO Tips for Small Businesses
1. Pay Attention to Technical SEO
Technical SEO means optimizing the structure of your site pages. How should the crawlers perceive your website? It should be a fast, user-friendly, secure resource with links that work and lead to existing pages.
But first, you need to ensure Google indexes your website at all. There are two ways to check it. The first one is to address the Google Search Console and open the Coverage tab. There you see the number of valid pages. They should generally match the number of pages on your site.
The other method is to search for your website on Google as "site:yourwebsite.com". If Google provides at least one result or nearly all your site pages, the search engine indexes them. If no results appear, Google is unaware of your site's existence.
Then, assess the technical quality of existing material before creating something new. You'd better leave some issues to engineers, for example:
updating security and encryption standards;
page speed optimization (probably, you'll need to try Magento performance optimization tips or others applicable to your CMS);
data architecture.
The following suggestions are relevant if you don't have that kind of technical knowledge:
Creating and submitting a sitemap to Google. You can leverage plugins to construct a sitemap, such as Yoast SEO for WordPress. It automatically builds and amends a sitemap when you post new content.
Where can you upload your sitemap? Google Search Console helps you manage your presence in Google search results.

Add local business structured data to your site. It includes location, opening hours, geo-coordinates, phone numbers, and other contact information. Indicate them in the proper format (in code) and with Schema.org metadata.
The Yoast SEO plugin can streamline this process if it sounds too technical. Additionally, it may be beneficial to include your city, and even your state, in the title of your site for better recognition.

Removing old pages that aren't getting any traffic.

Fixing broken and obsolete links. Sending your reader to outdated or broken links signals the SERP robots to devalue your content. Instead, refer people to high-authority external links. It will make Google's ranking system favor your content.

Working on your images. It involves posting relevant graphics with optimized size, proper captions, and ALT descriptions.

Getting rid of duplicate content. Let's assume some pages on the website contain the same content, let alone other websites. What should search engines rank first? There is a chance that all pages with the same content may be ranked lower.
You may suffer from a duplicate content problem without even realizing it. It happens when different URLs display the same material. For example:

https://example.com/black-coats/black-and-white-coats
https://example.com/white-coats/black-and-white-coats


It makes no difference to a visitor, but it does for a search engine, which will see the same information under a new URL. The solution is to indicate the original page with a canonical link element.If you want your prospects to spot your company in search results, use rich snippets.

Rich results include photos and additional information, such as ratings, price, availability, etc. That's how they differ from usual results (see the screenshot below).

If you want your prospects to spot your company in search results, use rich snippets. Rich results include photos and additional information, such as ratings, price, availability, etc. That's how they differ from usual results (see the screenshot below).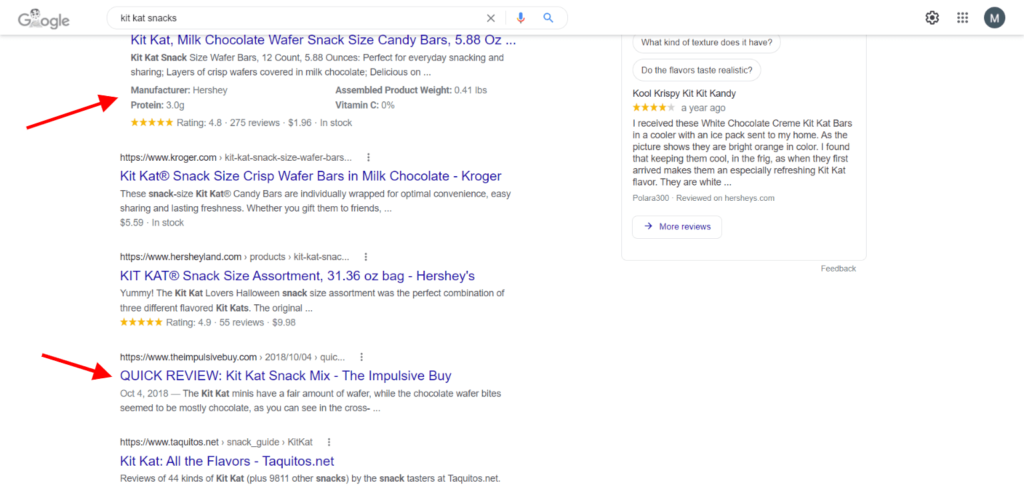 It is possible with structured data. However, Google doesn't guarantee to display the additional components. Even so, if you're already using structured data on your website, it's worth looking into the possibility of making improvements.
2. Concentrate on Local SEO
Small businesses cater to their local customers, so they appear in such results as well. Location-based queries include "restaurants near me" and so on. They comprise nearly a third of all smartphone searches. Even if a person doesn't specify "near me," the Google algorithm now puts local options at the forefront.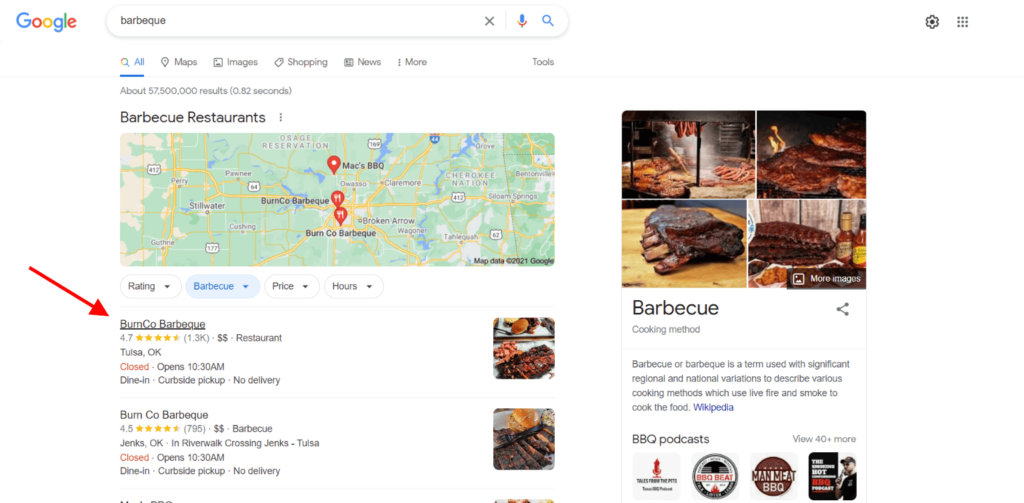 Set up a Google My Business Profile and claim your GMB listing to take advantage of local SEO. You'll need to input the local phone number, address, and other company data as Google displays the entered information in its search results.
Customers can leave their feedback there, and you'll receive notifications when they do. Your task is to respond to these clients and initiate a dialogue with them. It may help you improve your reputation in the community by being pleasant and courteous.
Look at such Google My Business features as the question and answer area. Anticipate queries and respond to them ahead of time to provide the best possible experience to potential customers.
Last but not least, register online with Yelp, TripAdvisor, and the Yellow Pages. It's one of the simplest SEO tips for small businesses to expose themselves to new audiences.
3. Look for the Best-Suited Keywords
How do you know what to write? Find out what your ideal consumer is looking for. The search engine will recognize you as a relevant resource if you answer inquiries better than anyone else.
What if you're time-crunched to conduct keyword research? There are keyword research tools to help you, such as:
Google itself provides an autocomplete and related search feature. These suggestions appear in the search bar when you write something or at the bottom of the SERP. They are the most frequently searched phrases, so Google is conducting your keyword research for you. Resort to the list as a starting point for content suggestions.
Suppose you've identified keywords to focus on them. What's next? Create a page on your site or a blog post for each of them, provided you understand what stands behind this keyword.
For example, an article about user-generated content as a marketing trend won't rank for the "digital marketing trends" keyword phrase. Such phrases should also appear in meta titles and meta descriptions.
What should you know about keyword research as a small business owner? Keyword research takes time, knowledge of crawler behavior, strategy, and understanding of specialized SEO tools. By leveraging these SEO tips for small businesses, you can simplify the procedure.
4. Improve Your On-Page SEO
On-page SEO revolves around the words on the page. Arrange your posts to be easily found in search, provided you create engaging material and match it with your target keywords.
Optimize titles and headlines. They impact your CTR, which is an essential aspect of how search robots rank results. The title should grip a viewer and be around 60 characters long.

Every page should have some copy. It doesn't have to be too long. Some pages are enough to have 100-200 words.

Optimize H1, H2-H6 tags. The H1 tag serves as the page heading, and the other ones are used for subheadings to establish a hierarchical structure.

Avoid cramming keywords into your page. Google penalizes content with an excessive number of keywords. What is the perfect keyword density? It ranges between 2 and 5%. It means incorporating it no more than five times for every 100 words.

Correct your spelling and punctuation if needed. Mistakes downgrade you in the eyes of visitors and crawlers.
5. Make Content Marketing More Efficient
There is no fast and effortless content marketing. But small growing businesses may be short on time and resources. These guidelines might help you increase your return on investment in content marketing.
Make use of templates. Some of your article content, landing, or product pages can follow a consistent pattern.

For example, provide in-depth examinations of business components or products. Case in point, compare and contrast the pricing pages of two services, what makes one superior to another, and statistics on their effectiveness (if there is any). Do the same for any two services after some time to ensure your content is up-to-date.
Shoot videos. Making a video is more time-consuming than writing a blog post. But videos are more engaging and easier to digest. They have more potential to influence conversions than exhaustive research presented in the text format.

What If you're uncomfortable with appearing before the camera? You can create animated videos. Below you can see how HuFriedyGroup employs animation to explain complicated things with the help of simple illustrations.

Don't live by organic search alone. Leverage social media, email newsletters, and other distribution channels. Сonsumers use social media platforms as search engines, for example, the Facebook search function, to look for companies or items. So make this tool your ally in the SEO campaign.
6. Build Links to Increase Authority
One of the most challenging SEO tips for small businesses concerns link building. How does Google react when other websites mention your business?
Backlinks are a good indicator of whether or not your site's pages are worth reading. When other websites link back to yours, it promotes your site in search. Here the quantity and quality of links matter.
Creating local links is done with an outreach strategy. Compile a list of your possible connections' names, emails, and phone numbers. These can be local media, bloggers, events, and other businesses.
How can you uncover useful sites for possible backlinks? Peek from your competitors where they obtain links and go after the same avenues. Again, such tools as Semrush can assist you in competitor analysis.
Link building begins with providing quality content, service, and word-of-mouth recommendations. To succeed in this activity, you have to put up much effort.
SEO Tips for Small Businesses: Is It Worth a Try?
To compare, paid ad campaigns are almost immediate if approached correctly, yet PPC requires a deal of constant investment. Below you can see such results marked as "Ad" as opposed to organic results.
Another disadvantage is how hard it is to rise to the top of search results organically for new websites, known as the Google Sandbox filter. It complicates competition for better positions in SERP in highly competitive spheres.
There are many SEO techniques to achieve results faster. But many of them are considered gray or black hat SEO, for example:
cheating on behavioral variables;
using an expired domain;
constructing a PBN network.
I don't recommend such SEO tactics. As a result, before investing in SEO, think about if you're willing to commit for the long haul. PPC (pay-per-click) advertising may help you sell your products and services faster. But you'll disappear from the top when you stop paying for PPC and don't work on SEO.
To Sum Up
Small businesses don't find themselves in a position of power when competing against larger companies. What can prevent them from achieving success? The lack of funds and resources, Google filters, and high PPC prices.
Small businesses should focus on best practices to optimize their websites for search engines, such as:
delivering value to users;
adding basic information to a Google My Business profile;
encouraging customers to write reviews or ratings for your company on Google, Yelp, Facebook, and other sites.
Track your SEO results in Google Analytics. It may take several months for your methods to bear fruit, but you'll see an increase in overall traffic and revenue if you follow these recommendations.
About the Author
Kate Parish is the chief marketing officer at Onilab, a Magento development company, with over 8 years of experience in Digital Marketing in the sphere of eCommerce web development.
Kate always aspires to broaden her competency in line with cutting-edge global trends. Her primary areas of professional interest include SEO, branding, PPC, SMM, Magento PWA development, and online retail in general.